-Close all windows that you have open.

-Double Click on the "My Computer" icon located on your desktop.

-Double Click on the "Dial-Up Networking" folder.

-If you are only using Salsgiver to acces the Internet and you have any other icons other than Make new connection and Salsgiver you can delete the other connections by right mouse clicking on them and selecting delete.

-Right mouse click on the Salsgiver icon and select properties.

Check that the area code and phone number are correct.
Freeport Access Number: 724-295-2550
Oakmont Access Number: 412-820-9553
If you're not sure which number you are to use, please check with your phone company to see which is local for you.
SALSGIVER INC. IS NOT RESPONSIBLE FOR PHONE CHARGES INCURRED VIA USE OF AN INCORRECT ACCESS NUMBER.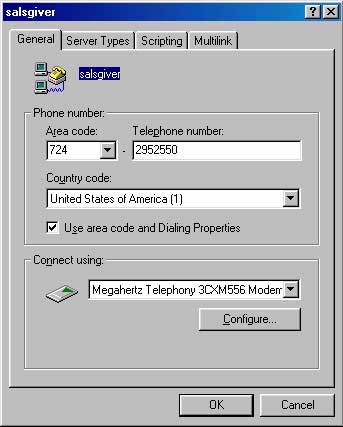 Click "Server Types"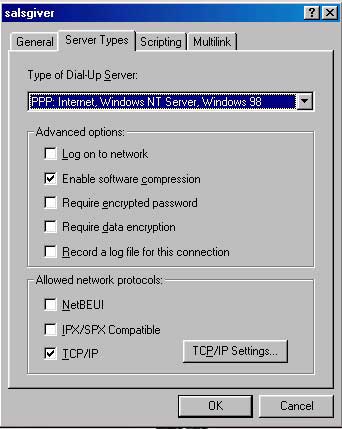 -Note: On certain versions of Windows 95 you may need the logon to network box checked. ONLY check this box if you can't connect.
-ONLY check "Enable Software Compression" and "TCP/IP"
-Click "TCP/IP Settings"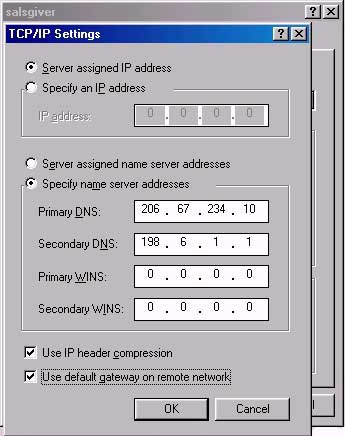 -You want a dot next to "server assigned IP address" and "Specify name serve address" and the "Primary DNS" should be 206.67.234.10 and the "Secondary DNS" should be 198.6.1.1 The "primary wins" and "secondary wins" should remain with zero's and the bottom two boxes should have checks in them.
-Click OK on all the windows that you can. Click on the Start Button, go up to Settings and then Control Panel.
Once the control panel is open double click on the Network Icon.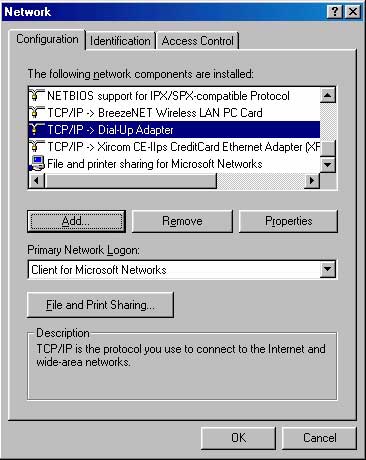 You will see that is says "The following network components are installed:" Double Click on TCP/IP -> Dial-Up Adapter. If this is win98 it will bring up a window that says "You are about to change the properties for TCP/IP" click OK. The next window will be labled "TCP/IP Properties"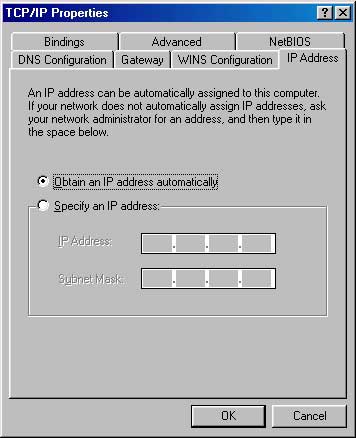 You want to have a dot next to "Obtain an IP address automactically"
Click WINS Configuration.
You want a dot next to "Disable WINS Resolution"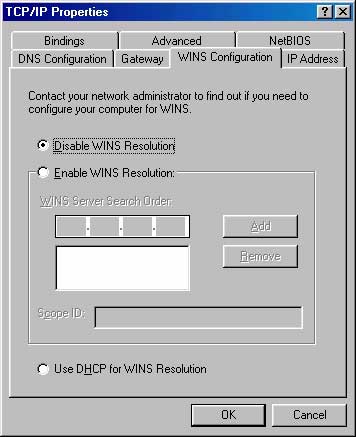 Click Gateway tab.
If you don't have any numbers in the installed gateways box put 206.67.234.1 in the new gateway box and then click the add buttoon.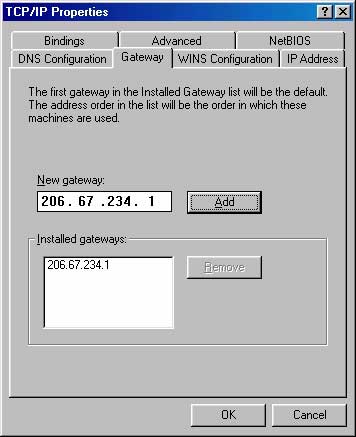 Click DNS Configuration.
You want to have Enable DNS selected
Substitute your username for laptop in the picture below.
Enter the domain as salsgiver.com and also enter the name servers 206.67.234.10 and 198.6.1.1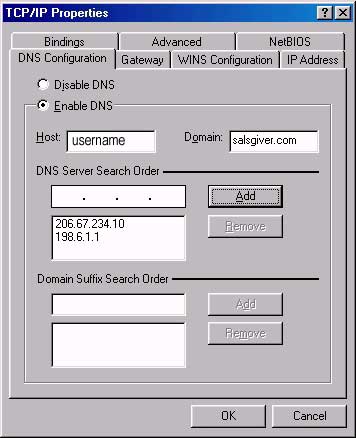 Click OK and then Click OK again and it is going to prompt you to restart your computer to have the changes take effect and you want to restart.
Attempt to connect and call us with any questions or problems at 724-295-1970